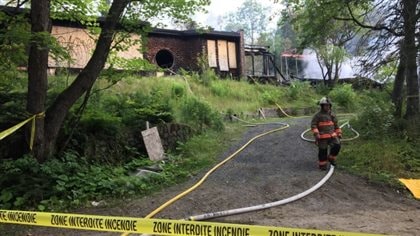 The fire broke out at around 5:30 a.m.in an abandoned building on Perry Street, which once housed a recording studio.
As CBC reports, firefighters say they have found evidence that suggests the fire may have been set on objective.
Provincial police Sgt. Daniel Thibaudeau says firefighters have been on the scene since for two hours today and about two-thirds of the building has been destroyed. The SQ is en route to examine the scene because of certain elements that suggest the fire is suspicious in nature.
In its heyday, Le Studio, welcomed the likes of Cat Stevens, The Police and Rush.
Le Studio was originally built by recording engineer André Perry in the mid-'70s as a retreat and live-in studio for artists.
Quebec provincial police are investigating a suspicious blaze at a building north of Montreal that once housed a recording studio frequented by many famous Canadian and global artists.
Local and worldwide artists have recorded there, including Cat Stevens, the Bee Gees, the Police and David Bowie. The building ceased to operate as a studio in 2003 and has not been occupied since 2008.