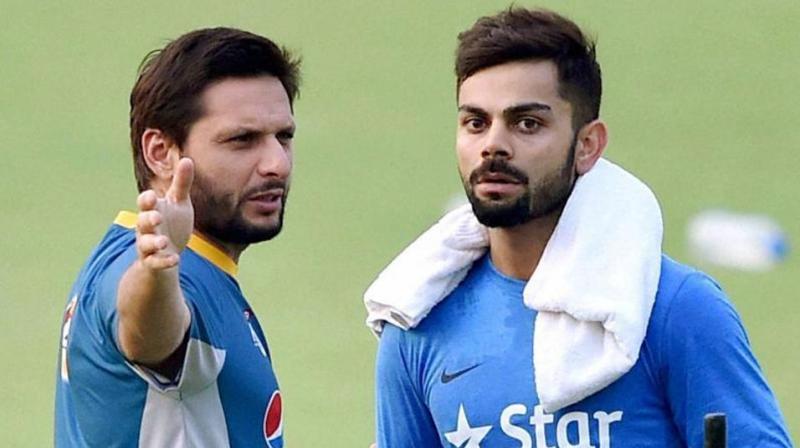 In a matchless show of grace and magnanimity, Indian captain Virat Kohli donated his signed cricket bat to former Pakistan captain Shahid Afridi for his foundation Shahid Afridi Foundation.
Indian cricket captain Virat Kohli won the hearts of Pakistani fans with another lovely gesture. "Friends & supporters like you ensure #HopeNotOut for everyone", Afridi tweeted.
"Thank you Virat Kohli for your kind gesture in support of Shahid Afridi Foundation".
Virat Kohli, who is now leading the Indian side against Sri Lanka, quickly replied and sent his best wishes to the former Pakistan all-rounder.
To Shahid Bhai, best wishes, always a pleasure playing against you.
This is not the first time Shahid Afridi had received a present from Team India.
The 37-years-old Pakistani athlete confirmed that Kohli's bat will be auctioned for his Thar hospital project and the auction will take place in Newcastle, England. The foundation is now raising funds to construct a hospital in Thar, Pakistan.
The jersey also carried this special message from Kohli: "Best wishes, Shahid Bhai".
Earlier when Afridi had retired from worldwide cricket, Virat gifted him his iconic number 18 India shirt with the signatures of him and several Indian players including Yuvraj Singh, Ravindra Jadeja, Jasprit Bumrah and Ajinkya Rahane. The jersey was gifted to Afridi after a group stage match between the two teams.